UIC grad says 'yes' to sustainable manufacturing in his back yard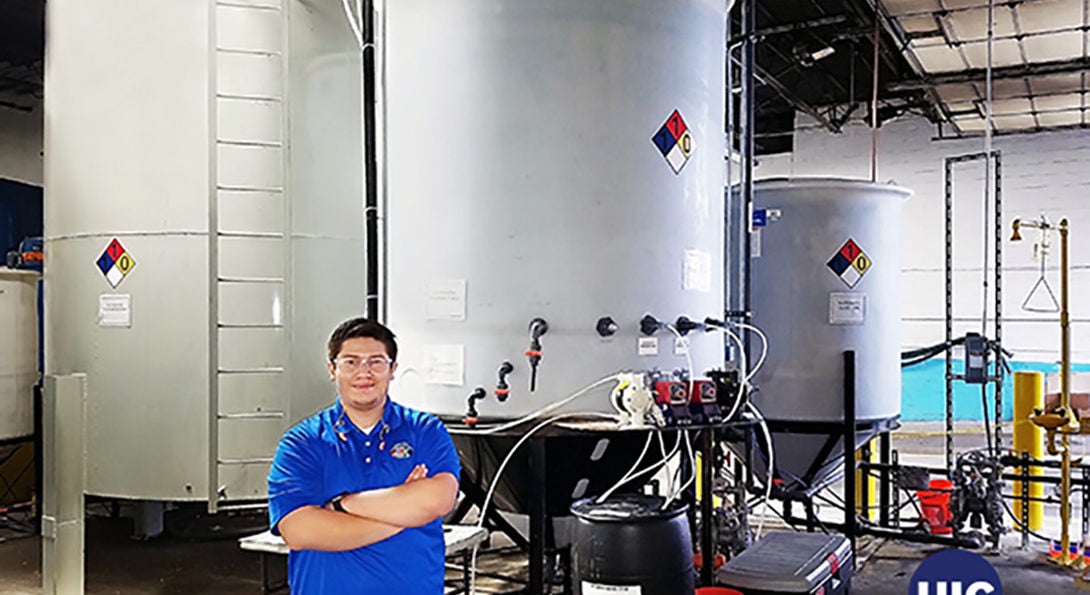 Quintero said as a student he was well aware of the benefits of sustainability to the economy because of the efforts of UIC
Only weeks after his Commencement ceremony at the University of Illinois at Chicago (UIC) in December, 2016, Chris Quintero was already putting his education in chemical engineering to work at his new job at Dynamic Manufacturing, Inc. of Melrose Park and Hillside, Ill.
Quintero, a native of adjacent Northlake, IL, landed the job following an internship at Dynamic. During his first year on the job as an environmental engineer at the company he has been actively involved in Dynamic's recycling program and wastewater pretreatment program which helped the company become a first-time winner of the Illinois Sustainability Award (ISA).
Dynamic is a privately-owned supplier of OEM transmissions, torque converters, and transfer cases to the auto and related industries. Another important part of its business is remanufacturing drive train components 'as-new,' using a fraction of the energy and raw material.
Quintero said as a student he was well aware of the benefits of sustainability to the economy because of the efforts of UIC, which itself has been awarded the ISA four times. "Seeing the work being done at UIC in regard to sustainability, and the fact that they have won the Governor's Sustainability Award in the past, has reinforced my positive attitude towards sustainability," he said.
Now he trains hundreds of Dynamic employees on environmental topics as part of the Environmental Health and Safety staff. He is a key player in the firm's Plant Recycling Program, overseeing recycling in two of the company's seven facilities.
"Since joining Dynamic, I obtained my Industrial Wastewater Treatment License and oversee the operation of our Wastewater Pretreatment System," Quintero said. "I am always looking for ways to improve the efficiency and performance of our wastewater treatment process." He is also actively involved in the company's Earth Day celebration.
The wastewater pretreatment system kept 192,000 gallons from needing to be shipped offsite for treatment. Other sustainability improvements that contributed to Dynamic's successful application included capture of transmission fluid and solvents for recycling, reduction in hazardous waste and significant quantifiable improvements in worker health and safety.