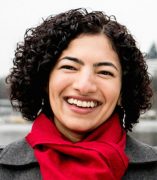 Anushka Anand
Outstanding Achievement Award
Computer Science
About
Anushka Anand is a senior product manager at Tableau Prep, helping build Tableau's new data preparation product. She is leading the team's efforts in augmented data preparation as they work to clean and combine data with the use of machine learning methods and help customers understand data quality issues.
Anushka was a member of the Tableau research team from 2012-2017, working on visualization recommendations with projects such as Voyager and Auto-Partitioner and actively publishing in the visualization community. She led the creation of a recommendations engineering team and helped shape the server-based recommendation features available in Tableau 10.3 and 10.4.
Anushka earned her PhD and MS degrees in computer science from the University of Illinois Chicago, actively publishing in the visualization and knowledge discovery and data mining communities. On the side, Anushka served on the Anita Borg Institute for Women in Technology's board of trustees program committee from 2014-2018 and helped found the Fremont Womxn in Technology group in 2013.