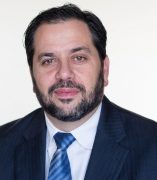 Jim D'Angelo
Outstanding Achievement Award
Mechanical and Industrial Engineering
About
Jim D'Angelo is the chief operating officer of Lou Malnati's Pizzeria, responsible for implementing operational excellence across the company, maintaining product consistency, and building capabilities for Malnati's future growth.
As an employee for more than 37 years, Jim has occupied many roles at Malnati's. After starting as a bus boy in 1983, he began to advance within the company working as a dishwasher, cook, manager, general manager, district manager, and regional manager before his promotion to COO in 2009.
As the leader of Malnati's operations, Jim's efforts toward product consistency and excellence have allowed Malnati's to continually expand throughout the Chicago area, open new markets in Phoenix, Milwaukee, and Indianapolis, and to be recognized as the premier Chicago-style pizzeria.
His contributions and innovations through the years have not only resulted in the growth and development of the business, but in the area of employee development as well. His dedication to building leadership and development programs within the company has positively impacted employees' careers and lives.
Jim holds an BS in industrial engineering from UIC. He and his wife Laura reside in Buffalo Grove, Illinois and have five children.