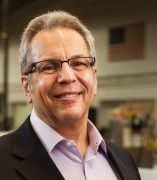 Michael Goluszka
Outstanding Achievement Award
Chemical Engineering
About
Michael H. Goluszka, vice president of manufacturing at LA-CO Industries, Inc., has more than 40 years of experience in small and mid-range companies. He is experienced in leading teams of up to 500 in companies with up to $150 million in sales revenue. Michael has been responsible for oversight through start-up, growth, acquisition, strategic planning and management, survival, and transition to acquirer modes. He is experienced in manufacturing, engineering, logistics, materials management, environmental compliance, and product design and development.
Michael has invested his career in several industries, including chemical processing and manufacturing, paint and ink manufacturing, and the manufacture of organizational products for the home and office.  His process experience ranges from the utilization of unit operations to fabrication methods, including plastic extrusion and injection molding. Michael has held business responsibilities in the domestic and international markets. His international experience includes executive management of the start-up and operation of a grassroots facility in Singapore.
To complement his professional responsibilities, Michael has served in a number of community support activities. These include ministry leadership, council membership, community volunteer involvement, and participation in a ministry construction activity in a rural South American location. At UIC, Michael has served in mentoring engineering students through the career preparation process, has participated as a judge at the Senior Design Expo, and has been a member of the College of Engineering Advisory Board as well as the Department of Chemical Engineering Advisory Board.
Michael earned a BS in chemical engineering from the University of Illinois Chicago in 1974. He is listed as an inventor on several granted United States design and utility patents.