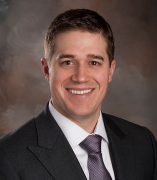 Matt Huffman
Outstanding Achievement Award
Civil, Materials, and Environmental Engineering
About
Matt Huffman is a senior project manager at Christopher B. Burke Engineering, Ltd., a full-service civil engineering consulting firm in Rosemont, Illinois. His focus is in transportation engineering, specifically in larger federally funded public projects during the preliminary engineering stage of project development. Matt leads a team of engineers and technical specialists to take a project from an initial idea through the heavily regulated federal project development process culminating in a preferred improvement design. He is responsible for all aspects of the project development from the initiation of the project, identification of the purpose and need, development and evaluation of alternatives, determination of the preferred improvement, preparation of all environmental and engineering reports, and public engagement.
Matt is an active leader within the local civil engineering industry, which first started at UIC, and is currently serving a two-year term as the secretary for the Illinois section of American Society of Civil Engineers (ASCE), comprised of 2,600 members in the civil engineering industry within Northern Illinois. Matt previously was the UIC ASCE student chapter president (2005), chair of the Illinois Section Transportation & Development Institute (2012), and served as membership chair of the ASCE Illinois Section (2008-2020). In 2015, Matt was recognized as the ASCE Illinois section young civil engineer of the year. He also has served on the Village of La Grange Park – Traffic, Safety & Engineering Committee since 2016. Prior to moving to La Grange Park in 2015, Matthew served on his 326-unit Condominium Association Board of Directors and held the position of president for several years. Under Matthew's leadership, the condominium underwent a $3.8 million dollar capital improvement roof and façade project to address water infiltration into approximately 25 percent of the units.
In 2008, Matt was invited to join the UIC Civil Engineering Professional Advisory Council (CEPAC) for the civil, materials, and environmental engineering department, which he now chairs. The CEPAC is composed of more than 20 professionals from the public and private sectors to provide an industry perspective along with advising on curriculum, assessing graduating senior students, and strengthening industry connections with CME. Over the last 10 years, Matt has also enjoyed serving as an outside consultant to CME 497 senior design students for their Expo senior design projects. He also enjoys his time mentoring aspiring engineers at his high school alma mater, Maine South (Park Ridge), and his wife's current employer, Alan B. Shepard High School (Palos Heights).
Matt graduated with honors from the UIC College of Engineering in 2006 with a BS in civil engineering and received his MS in project management from Northwestern University in 2010. During his time at UIC, Matthew was a athlete on the men's swimming and diving team. He currently lives in La Grange Park with his very understanding wife Dana (also a UIC alumnus), daughter Evelyn, and son Owen. Matt has a great sense of pride for the institution that has given him so much and enjoys every opportunity he has to contribute back to UIC and its students.