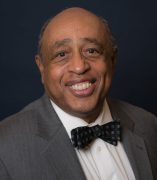 Brandon Hamilton
Distinguished Service Award
Mechanical and Industrial Engineering
About
Dr. Brandon Hamilton holds a BS in socio-technological engineering from the University of Illinois Chicago. He also attended graduate schools to pursue two doctorate degrees: one in educational leadership and another in business.
Brandon has enjoyed more than 40 years of experiences in engineering. He has been an engineer for Stone & Webster Engineering, Southern California Edison, and Rocketdyne; an analyst for Analytic Services, a Washington, D.C. think tank; and the president of World Marketing Services, a television production company.
After many years in corporate America, he started teaching and consulting. He taught at DeVry University, the University of Phoenix, Westwood College of Technology, Ivy Tech State College, The City Colleges of Chicago, and Northeastern Illinois University. Brandon has consulted for the City of Los Angeles, Drew University of Medicine and Science, Children's Institute International, Ben and Jerry's Ice Cream, Harley Davidson Motorcycles, the City of Hope, Chicago Public Schools, Catholic Diocese of Northwest Indiana, and the Chicago Urban League.
Brandon has made numerous television appearances and has been a guest on numerous radio shows. He has written numerous articles that have been published in magazines and peer-reviewed journals such as International Handbook of Academic Research and Teaching, International Journal of Accounting Information Science and Leadership, and Review of Management Innovation and Creativity.