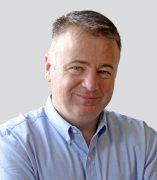 Frank Riordan
Outstanding Achievement Award
Mechanical Engineering
About
Frank Riordan is the founder and CEO of DMC, a custom engineering and software development firm with a focus on factory automation. DMC, established in 1996, has enjoyed steady, growth over the years. It's grown from the first two employees to over 190 employees and offices in Chicago, Boston, Dallas, Denver, Houston, New York, Seattle, St. Louis. DMC engineers implement projects across the globe in industries including food and beverage, automotive, oil and gas, aerospace, product development, and more. DMC's service areas include: Manufacturing & Automation Intelligence, Test & Measurement Automation, Custom Software & Hardware Development, and Digital Workplace Solutions.
He has been a member of the Siemens User Advisory Board since 2010 and the co-chair of the Siemens Solution Partner program since 2009. Frank is also a proud member of the Young Presidents' Organization (YPO), was inducted into the Chicago Area Entrepreneurship Hall of Fame in 1996 and was a 2019 EY Entrepreneur of the Year Finalist.
Frank holds a B.S. in Mechanical Engineering from the University of Massachusetts, Amherst and an M.S. in Mechanical Engineering from the University of Illinois, Chicago. While at UIC, Frank studied underneath Sabri Cetin and, after graduation, worked for Sabri's consulting company. Frank strongly credits Sabri for giving him a solid technical and business foundation that has been instrumental in the success of his company.